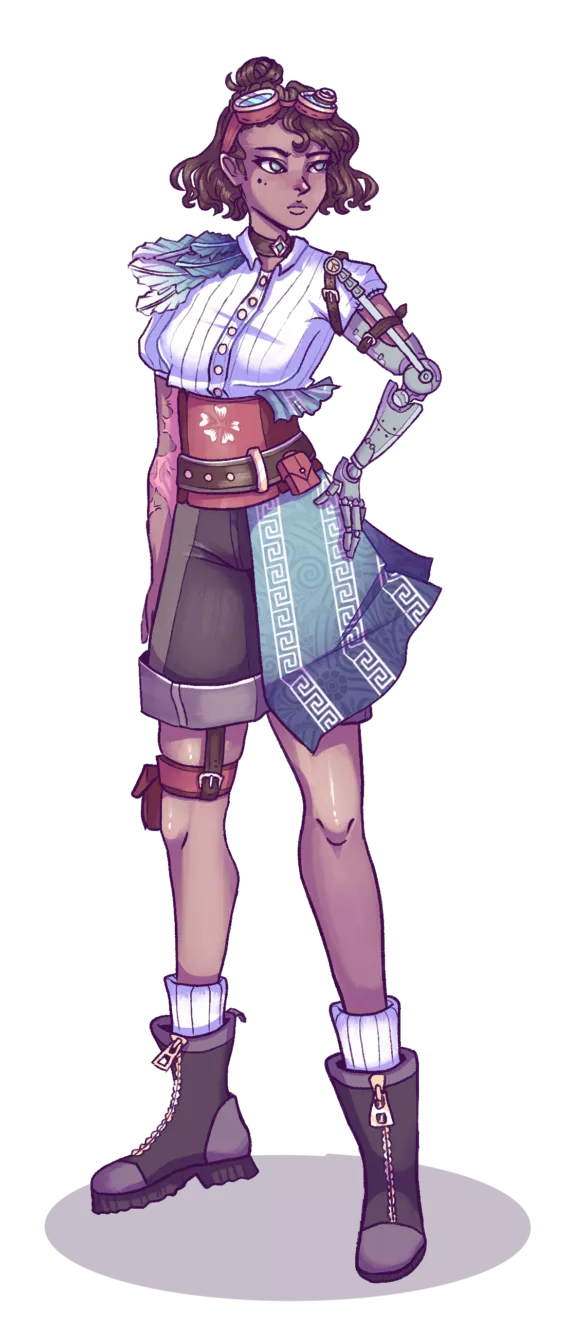 Eirene "Nemesis" Pantazis

Nemesis is one of the main protagonists of the world "Narcissus". Born and raised among the higher ups she never got used to the lifestyle. While people around her enjoyed the aristocratic wine and olives, she loved to get her hands dirty with oil and create machinery. 
Inspired by peace despite her chaotic life she desperately wants to escape. Eirene is a greek godess of peace and Nemesis is the complete opposite - therefore the chaos. 

Colour palette

I took inspiration from numerous sources, the first being peace. I wanted her to contradict herself in every aspect of the design. Growing up among the royalty and seeing the magic users all her life, she never despited them. Although, she grew to hate them in the coming years. 
Her first name, "Eirene" comes from Greek mythology - Eirene being the goddess of peace - and her surname from the Greek word "forever living".
The nickname Nemesis was a choice of hers. One would say an odd one but, it has a long history in her mind.
As another symbol of peace, I choose feathers. Feathers on the shoulder was a common theme among noble kids. Her's however, aren't entirely white as her intentions now aren't peaceful. 
As an engineer, she was able to create a working prostate of an arm after losing it. Firstly I was thinking about a belt holding all her tools, but I scrapped that idea quickly. She needs to move swiftly and be able to react without the tools being in the way. Despite this, I gave her two small pouches containing various small items from smoke grenades to simple screwdrivers. 


The blue cloth around her corset is a reminder of her past as it once was a part of her ball dress. Now, she uses it as a dirty rag to clean up her hands from oil. 

Character Exploration
Experimentation with different colour palettes has helped me to understand the character. I was primarily focused on the corset as much as the prostatic arm. 

In the final design I only removed the yellow scarf around her neck.